Rich Resources Huge Potential
Energy storage is prevalent. By analyzing the rise of emerging markets such as India, Brazil, Australia and South Africa, we can understand the global energy storage division.
India:
South Asia's cross-border power transmission hub, energy storage coordinates the power gap between the north and south
India is the world's third largest producer and consumer of electricity. As of the end of 2022, India's total installed capacity reached 410.339 million KW, of which renewable energy power generation accounted for 40.7%. At present, except for some economically developed areas that can guarantee 24-hour power supply, the southern, northeastern and northern regions have obvious power shortages. Most industrial parks with large investments plan to provide their own power stations, and energy storage will become a strong guarantee for the power grid system.
In addition, India is located in the center of South Asia and has built transnational power transmission lines with most surrounding countries. The cumulative power transmission capacity of cross-border interconnections with neighboring countries is approximately 4.23 million kilowatts. In the future, it plans to increase transmission capacity by approximately 4.02 million kilowatts, totaling approximately 8.25 million kilowatts. Ten thousand kilowatts.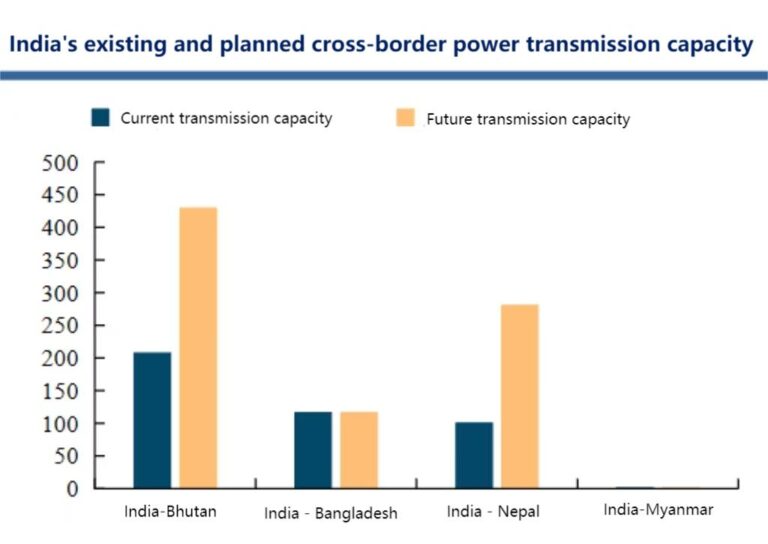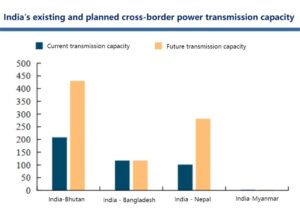 In 2022, India will deepen the reform of the power sector, implement universal network access, open the three-level reserve ancillary service market, and adopt a new deviation fee settlement mechanism. The proportion of new renewable energy capacity in the year will be about 90%. In January 2023, the Indian government approved the "National Green Hydrogen Plan" and will invest US$2.4 billion to promote the development of green hydrogen.
Brazil:
1. Hydropower is limited by dry weather, and the potential for wind and solar development is extremely high
Brazil's power industry started early and has entered a relatively mature stage. It has three major river systems: Amazon, Paraná and São Francisco, and is the country with the richest water resources in the world. Judging from the power generation situation, Brazil's total power generation in 2021 will reach 656.108 billion KWh, a year-on-year increase of 5.62%. Among them, hydropower accounts for 55.30%. However, Brazil has encountered drought weather many times this year, which has caused water levels in many reservoirs across the country to drop and directly affected hydropower output.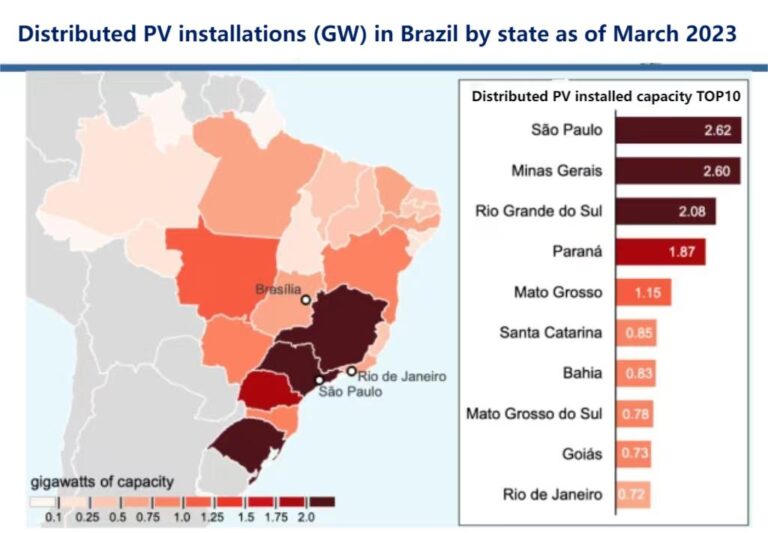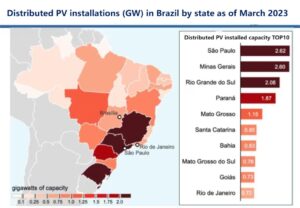 80% of Brazil's land is located in the tropics, more than 50% of the country's land exceeds 500 meters above sea level, and the average annual sunshine time exceeds 3,000 hours. The potential installed capacity of solar power generation is more than 114 million kilowatts, and the installed potential of wind power generation is as high as 143 million kilowatts. It has extremely high development value. According to the Brazilian Electricity Regulatory Authority (ANEEL), as of March 31,2023, Brazilian home and building owners have installed more than 1.8 million renewable distributed generation systems with a total capacity of approximately 19GW.
2. The free electricity market is expected to expand, and Chinese power companies are cooperating deeply
The Brazilian electricity market is divided into a regulated market and a free trading market, with transaction proportions of 75% and 25%. With the advancement of Brazil's electricity reform, such as:
1)Decentralization of large state-owned companies.
2)Lowering the access standards for the free electricity market.
3)Implementing market-oriented reform measures such as dual electricity taxes, the free electricity market will be further expanded and stimulated.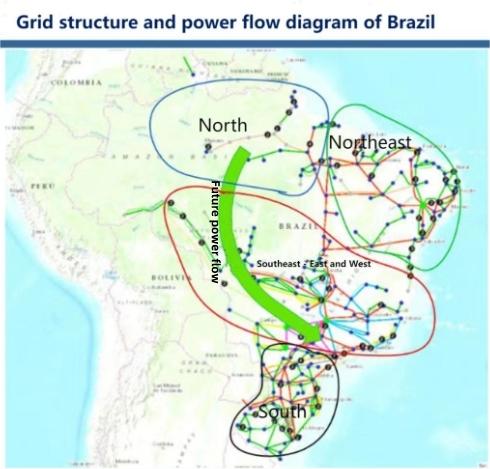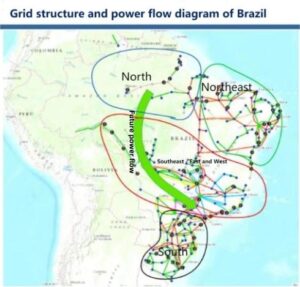 Electricity consumption. Brazil's energy resources and load demand are also distributed inversely. Coupled with the characteristics of uneven regional economic development, it requires large-capacity, cross-regional, and long-distance power transmission to optimize the allocation of power resources in a wider range. Energy storage is expected to help Brazil Cross-regional power coordination work.
According to statistics, China invested in a total of 36 projects in the Brazilian power sector from 2010 to 2019. There are at least 14 Chinese power companies operating or currently investing in Brazil, with a total investment and participation in construction projects totaling US$36.5 billion. State Grid has become the Chinese company with the largest investment in Brazil, and has achieved development, transmission, distribution and sales.
Comprehensive coverage of business fields, accounting for 56% of China's total investment in the power industry, followed by China Three Gorges Corporation (27%), China General Nuclear Power Corporation (6%) and State Power Investment Corporation (3%).
Australia:
After the withdrawal of coal power, the inherent instability of wind and solar power generation has created a demand for energy storage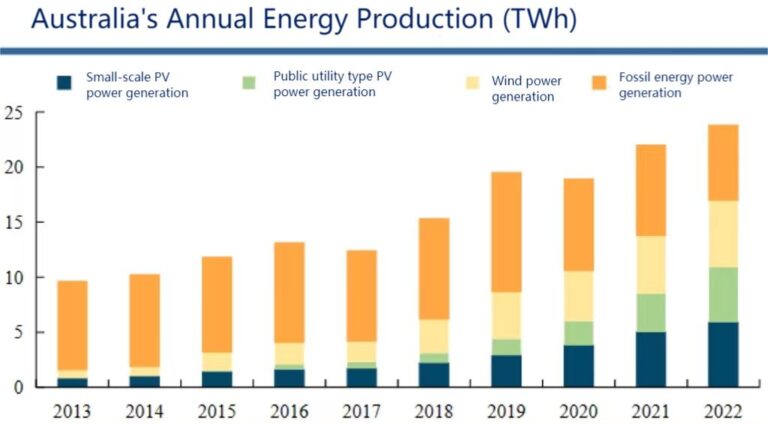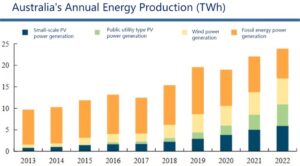 Coal-fired power generation is the backbone of Australia's energy grid, meeting about 60% of the country's electricity needs. In April 2023, the Liddell coal-fired power station, which had been in operation for 50 years, withdrew from the market. At first, it supplied the market with a power generation capacity of about 800MW per year, and most of the power was priced at 0 yuan.
The rapid withdrawal of coal power stations will have an impact on electricity prices and will delay the withdrawal of other coal-fired power stations, while the slowdown in capacity replacement will affect the power market. In Q2 of 2023, Australia's wind and solar power generation increased by 745MW year-on-year. Local energy market operators estimate that by the end of 2024, 5GW of wind energy, solar energy and batteries will be added.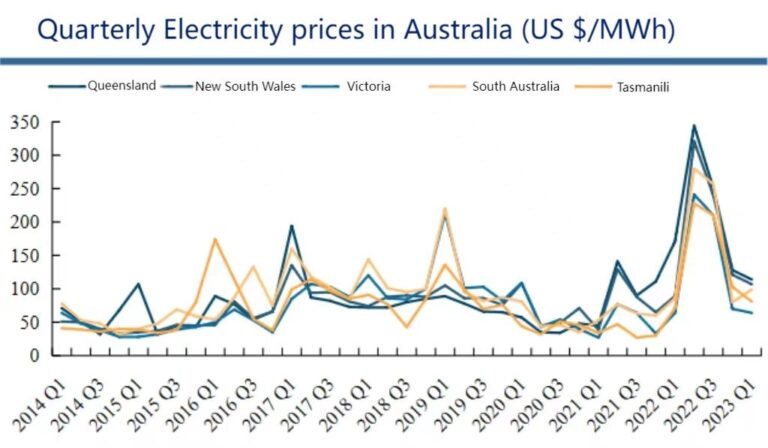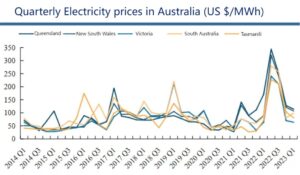 Australia's National Electricity Market (NEM) was suddenly suspended in June 2022, and electricity prices soared in Q2-Q3 2022. The main reasons are the continuous lack of wind power, reduced coal inventory, heavy rains that slow down coal mine production, and a severe cold wave in June. Due to shorter sunshine hours, photovoltaic power generation is also below average, and 25% of coal-fired power generation is out of operation. status, resulting in this power supply shortage. Therefore, as one of the most mature and free power markets in the world, Australia's energy storage needs will gradually emerge.
South Africa:
Serious power outages, heavily subsidizing the construction of new energy power generation
Eskom is a monopoly integrating generation, transmission, distribution and sales, producing approximately 95% of South Africa's electricity and approximately 45% of Africa's electricity. In June 2022, Eskom initiated level six power restrictions, mainly due to the deterioration of operating conditions and reduced power supply, which meant that most parts of South Africa were without power for 6 hours a day, continuously or at intervals.
According to PCC, South Africa is expected to add 50 to 60 GW of renewable energy installed capacity by 2030. In recent years, large-scale power rationing orders have become the norm in South Africa. The South African government announced that national electricity prices will increase by 18.56% and 12.74% in 2023 and 2024 respectively.
At the same time, to encourage the construction of distributed power generation facilities, the government issued two photovoltaic tax subsidies totaling up to 4 billion rand (approximately US$210 million). In 2022, South Africa will import 1,187MW of photovoltaic modules from China. 2023 will usher in explosive growth, with cumulative imports from January to May reaching 2,665MW, a year-on-year increase of 4.6 times. It is estimated that the annual import volume in 2023 will reach 3.8-4.5GW, a year-on-year increase of approximately 3.4 times. Large-scale photovoltaic facilities are bound to go hand in hand with energy storage.
If you want to know more about the country's energy storage analysis, please keep an eye on the website for updates.