ALL-Energy Australia opens on October 25 at the Melbourne Convention and Exhibition Centre and runs for two days. MK Energy was present at this prestigious event to show its latest lithium iron phosphate (LiFePO4) battery solutions.
Grand scene of the fair
The much-anticipated first day of ALL-Energy Australia 2023 has arrived, and the atmosphere is nothing short of electrifying. ALL-Energy Australia 2023 is more than just an event; it's a dynamic, forward-looking celebration of the energy revolution.
MK Energy is thrilled to be part of ALL-Energy Australia 2023. Our LiFePO4 battery solutions exemplify a sustainable and dependable answer to a wide range of energy storage needs. We extend a warm invitation to all event attendees to visit our booth and discover the transformative potential of our leading-edge technology.
What can we offer you?
With a particular emphasis on Lithium Iron Phosphate (LiFePO4) battery technology, MK Energy plays a pivotal role in shaping a sustainable energy future by offering dependable, efficient, and environmentally friendly energy storage solutions.
We have four Key Highlights from this exhibition:
LiFePO4 Battery Solutions: Visitors have the unique opportunity to explore a diverse range of LiFePO4 battery products designed to meet the dynamic energy storage needs of industries spanning industrial, commercial, and residential sectors.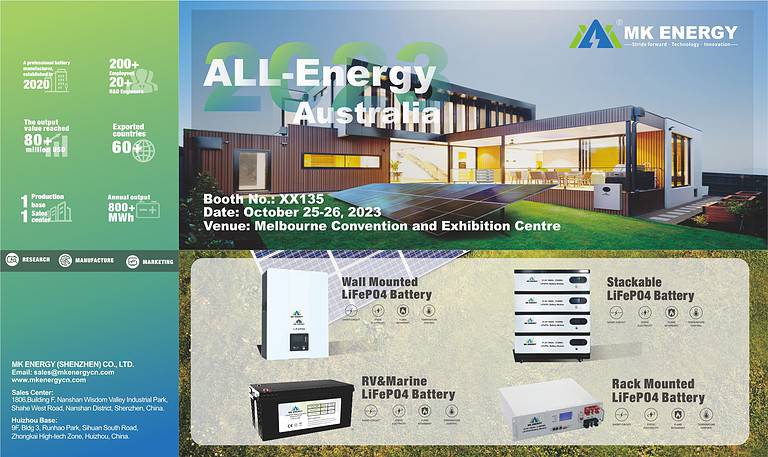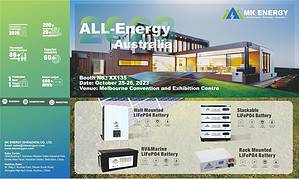 Sustainable Future: MK Energy's products embody the latest advancements in energy storage technology, promoting efficiency, reliability, and environmental sustainability.
Expert Insights: The MK Energy team has many years of experience in the battery manufacturing industry, but also has its own unique insights in the field of energy storage, and can provide in-depth consultation and guidance on the site to reveal the advantages and wide applications of lithium iron phosphate batteries.
Global collaboration: Expand your global presence and connect with industry experts around the world to discuss the future of energy storage.
Conclusion
We are honored to be a contributing part of this event, demonstrating its dedication to advancing energy storage solutions. The exhibition lasts for two days (October 25-26), welcome to visit! For more updates on the show, please follow our social media accounts.
Our booth number is XX135.